Each year I create a computer rendered Christmas card using the Persistence of Vision Ray Tracer POV-Ray. I often try to have the card reflect some things that have been going on in my life. For example in 2010 we got my first 3-D TV so I created a 3-D Christmas card. I included red/blue glasses with each one. Last year after working a lot with electronics I decided to put a blinking red LED on Rudolph's nose as I outlined in my previous blog entry here.
One of the big events of 2014 was we had a break in at my house so the house was on my mind a lot. We lost that 46 inch 3-D HDTV that I just mentioned and my dad lost a couple of expensive wrist watches but other than that the only thing we lost was peace of mind. We gained a replacement TV and a new alarm system.
In other news… I'm a big fan of the TV show "Once upon a Time". When I heard that they were going to do half the season based on the Disney film "Frozen". I'm a huge fan of computer-animated films from Pixar, Disney, DreamWorks etc. however I have not seen "Frozen" because it just didn't look that interesting. But with the new season of "Once upon a Time" based on the film, I took the time to watch it and became completely obsessed which is really embarrassing since I'm not a six-year-old kid, I'm a 59-year-old man.
While most of the kids who enjoy the film get obsessed with the song "Let It Go", I couldn't let go of "Do You Want to Build a Snowman?". ABC ran a special about the making of "Frozen" and I was shocked to learn that "…Snowman" was almost cut from the movie! I've become so obsessed with the song that I've even taken to writing parodies of it such as this one.
Having already created Christmas trees (2006), reindeer (2013), and a little Santa Claus figure (2011) and a variety of interior Christmas scenes, it was time to put it all together in an outdoor Christmas scene featuring my house. Except for the main Christmas tree, the reindeer, and the Santa figure everything in this scene was newly created for this card such as the bushes, the small tree in my office window, Santa's sleigh, and of course the entire house. The biggest challenge was to try to come up with a formula for isosurface objects that would realistically look like snow. The snow texture itself was tricky trying to get random sparkles.
One item of note is a little blue sign sitting in the yard just left of the snowman. That's a sign for the Guardian Alarm Company.
Here is the final image. You can click on the images to enlarge.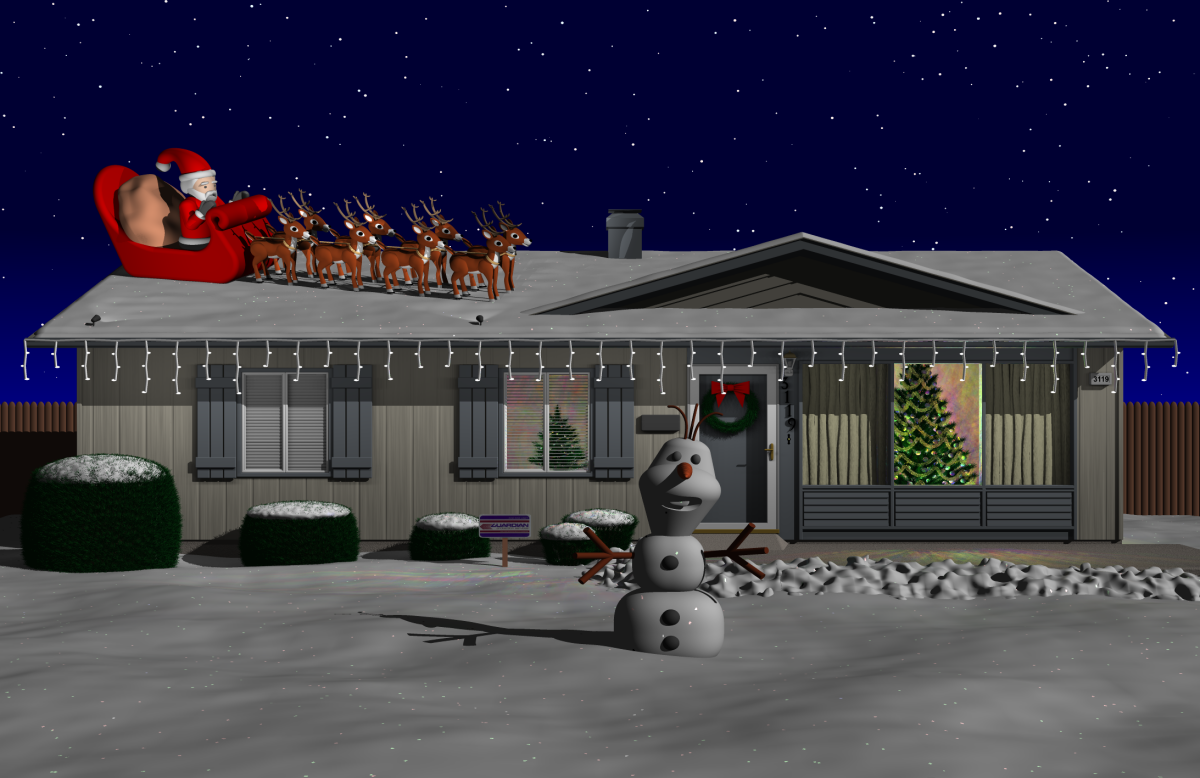 These two images show what the interior of the card looks like.
At some point I will do a more detailed description of how I created this and other cards.
Here is a link to a Facebook album showing all my previous cards.